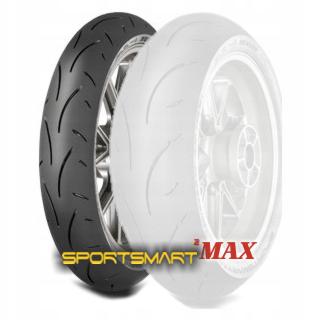 Stopgezet 80.92 €
80.92

€
(incl. BTW excl. Verzendkosten)
Technische specificaties
Merk
DUNLOP
Profielen
SPORTSMART II MAX
Bandenmaat
120/70 R17
Categorie
Motorbanden M/C
Type
Racing,Sport
front/rear
voorband
Speedindex
H
Loadindex
58
carcass
TL / Tubeless / Radial
EAN
5452000707260
ArtNr
635456
DOT
Nieuwe
Weight
5.0 kg
Production Country
FR

11/2017 - Fazit: " Der Vorgänger Sportsmart zwo wedelte 2016 mit der roten Laterne, der Max springt bei seinem Testdebüt gleich aufs Podium. Besondere Glanzpunkte kann Dunlops neuer Sportler im Alltag und mit seiner Ausdauer setzen." Auch im Regen hat sich der Max deutlich verbessert, doch der Abstand nach vorne bleibt.
Test for the Dunlop SportSmart2 Max
Available Q1 2017
Presentation News Tests Promotion for the Dunlop SportSmart II Max

24.06.2018
Deze beoordeling is niet beschikbaar in uw taal.
Geef als eerste een beoordeling voor deze band in uw taal!